WHAT YOU MUST DO FOR A SICK FISH
Act immediately.
Administer the appropriate treatment.
Take care of the fish in a hospital/quarantine aquarium.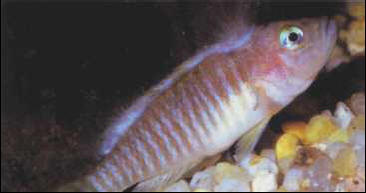 This Neolamprologus multifasciatus has foam on its wounds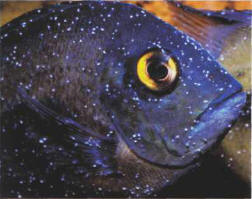 Fish afflicted by white spot disease (ichthyophthyriasis). Easy to detect - the body is covered with white spots - this disease is very contagious.
Treatment must be given as soon as the disease appears, i.e. when you see the first symptoms, and you must act quickly.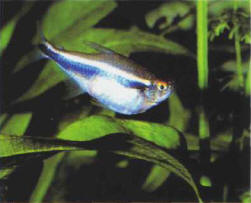 A fish's swollen abdomen is often the sign of dropsy, a bacterial disease.
Treating a sick fish in a mixed aquarium is not without its risks: some substances can have undesirable sideeffects on other species or on the plants. It is therefore preferable to use a hospital aquarium, or a quarantine aquarium.